Destino Ibiza information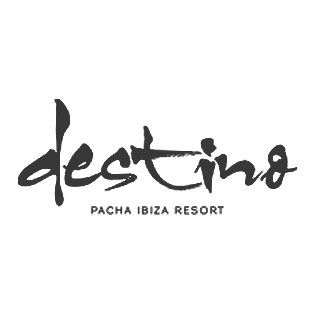 Destino Ibiza is a glamorous resort of Pacha Group located a short distance from the beach of Talamanca and the Port of Ibiza. In all the summer we can find emblematic outdoor parties at Destino club
Destination club, a little away from the bustle of the city, is an idyllic place that offers everything Ibiza symbolizes: the best electronic music, stunning sunsets over the sea and a perfect atmosphere.
The glamorous Pacha Group resort was opened in 2013. The hundred seventy rooms of Destino Hotel have different styles and even luxury suites for distinguished tastes.
All of them are integrated with the natural space around in the hills of Cap Martinet. Its great attraction is the stunning view of the Mediterranean, Formentera and Dalt Vila.
His restaurant designed for two hundred guests present a fusion of Japanese flavors, Mediterranean and Central America, achieved using fresh, local ingredients.

But the strong point of this venue is its terrace, surrounded by palm trees and large decks. The jacuzzi and the central pool has become an ideal place for both daytime parties and after parties. Here the famous Destino day parties are held, in the afternoon.
Last season, summer 2019, we could enjoy two emblematic parties starring the international artists Solomun and Marco Carola (music on)

And when the party ends at midnight, for those who want more, inside the same venue is TOX club. This private nightclub opens from 11:30 p.m. until late in the morning.
Or you can also continue the party at the famous Pacha Ibiza nightclub, a few kilometers away

Destino Ibiza, day party clubs in Ibiza
Go out & clubs in Ibiza and the Marina
Ibiza clubs open only in Summer season, may to october

Destino Ibiza club parties
Destino Ibiza party calendar 2019
The most famous parties in Destino Ibiza club, open air parties
Destino ibiza events and party Calendar 2020
Full program of Deestino Club parties for the 2020 season is not yet know.
Most famous Destino Ibiza Dj's
Solomun, Luciano or Guy Gerber have been just some of the DJs who have had a residence on this spectacular terrace.
Doubts and frequently asked questions
Destino club is located in Cap Martinet, just 5 minutes drive from Ibiza center but, at the same time, far enough away from the hustle and bustle of the city.
Bus: For important events, the Destination Club Ibiza offers free round-trip buses with stops at the Pacha nightclub, the port of Ibiza and the city of Ibiza. It also includes several stops at Playa d'en Bossa.
By taxi: Prices vary according to your point of origin
From Ibiza Town to Destino Ibiza: Taxi will cost approx 15€

The parties at Destino club Ibiza are in the afternoons, their usual schedule is from 5:00 p.m. to 12:00 a.m
Destino Ibiza resort club organizes events only during the summer season, because their parties are outdoors.
In high season, summer, you can enjoy Destino Ibiza parties every day.
Destino club party tickets vary in price between 20 to 35€. In some events with important DJs, such as Solomun, the price of tickets can amount to 50€.
Buy the same day ticket at the ticket office could increases the price. So if you are planning to go to Destino Ibiza remember buy your Destino tickets before in this website. We are official selling point of Destino club tickets.
Drinks have an average price of € 15 while a beer is around € 10.

Buy Destino Ibiza tickets, upcoming events